Interested in learning watercolour with me?
Register your interest in my courses and workshops
Hello and welcome!
Here you can register your interest in learning the art of watercolour painting with me.
The reason I created this page was because I was getting a lot of inquiries about my classes and I am trying to collate and get together all interested parties so as to best work out what would suit the most people. Also it hopefully will give me an idea of what level each individual is at and what times suit etc. so I can tailor my classes to suit everyone where possible. So please if you could fill up the form below and then when I have the courses in place and know what's available I will email you and see if it suits and if you're still interested.
Courses
I teach 8 week evening watercolour courses in Gorey, co. Wexford. Classes are 2 hours long in a relaxed atmosphere with a short break for a cuppa! The price of the whole course is €250 normally paid at the first lesson or online. For beginners courses you don't need to bring anything for the first or second lesson – I supply all materials you're going to need and will explain what to buy etc.
The groups are kept small, limited to 5-7 students so you will get the individual attention you need in each class.
Saturday
10pm – 4pm
February 8th 2020
Max students: 6
Kate Kos Studio
Gorey, co. Wexford
€100
Paint Along
Every Thursday morning throughout the summer I organize Paint Along classes in Kilmurry Nursery. These would suit a total beginner, someone that have never painted before and who wants to try it just to see if she or he is going to like it. Its also a great way to refresh your skills if you haven't painted in many years. I supply all materials, easels, boards, paints, brushes etc, classes are in a relaxed atmosphere and we stay for a cup of tea and a slice of cake after (included in price). These lessons are €30 each. If you are interested and would like to be reminded in the summer please fill in the form below and select "paint-along classes".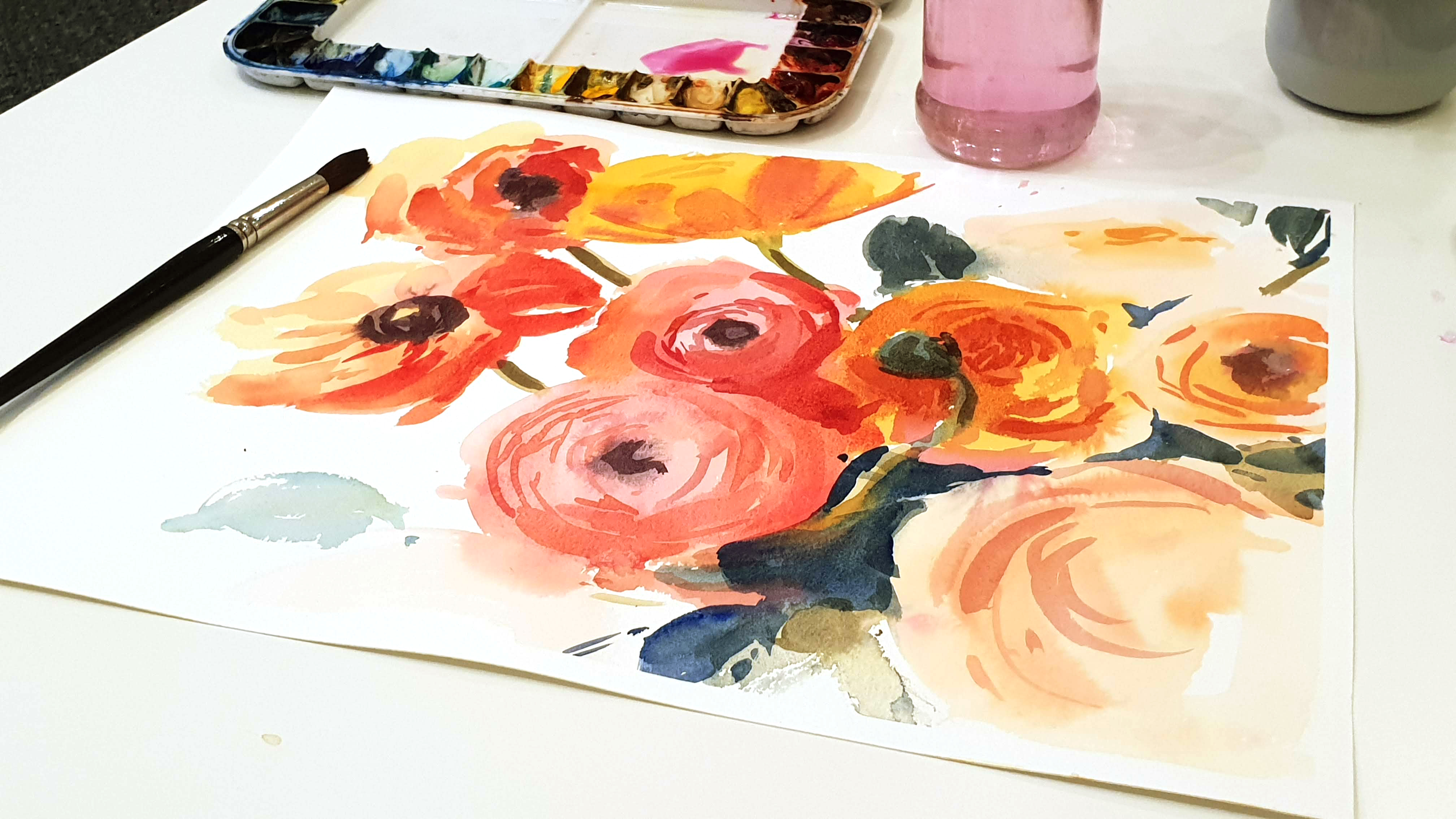 8 week watercolour course
For those new to watercolour and art. I am going to teach basic techniques of watercolour painting, including how to use brushes and what kind of paints to buy, planning your painting, working wet on dry and wet on wet. No need to buy materials before the course starts, I will provide everything students might need for the first 2 weeks. After first lesson you will get a list of necessary materials. My aim is to give you enough confidence so you can start and finish watercolour painting on your own, preferably working with your own photo reference.
      Kate Kos Studio
      Thursday evenings 7pm - 9pm
      January 23rd - March 12th
      Materials supplied for the first 2 weeks
      €250
      book here or call 0879877312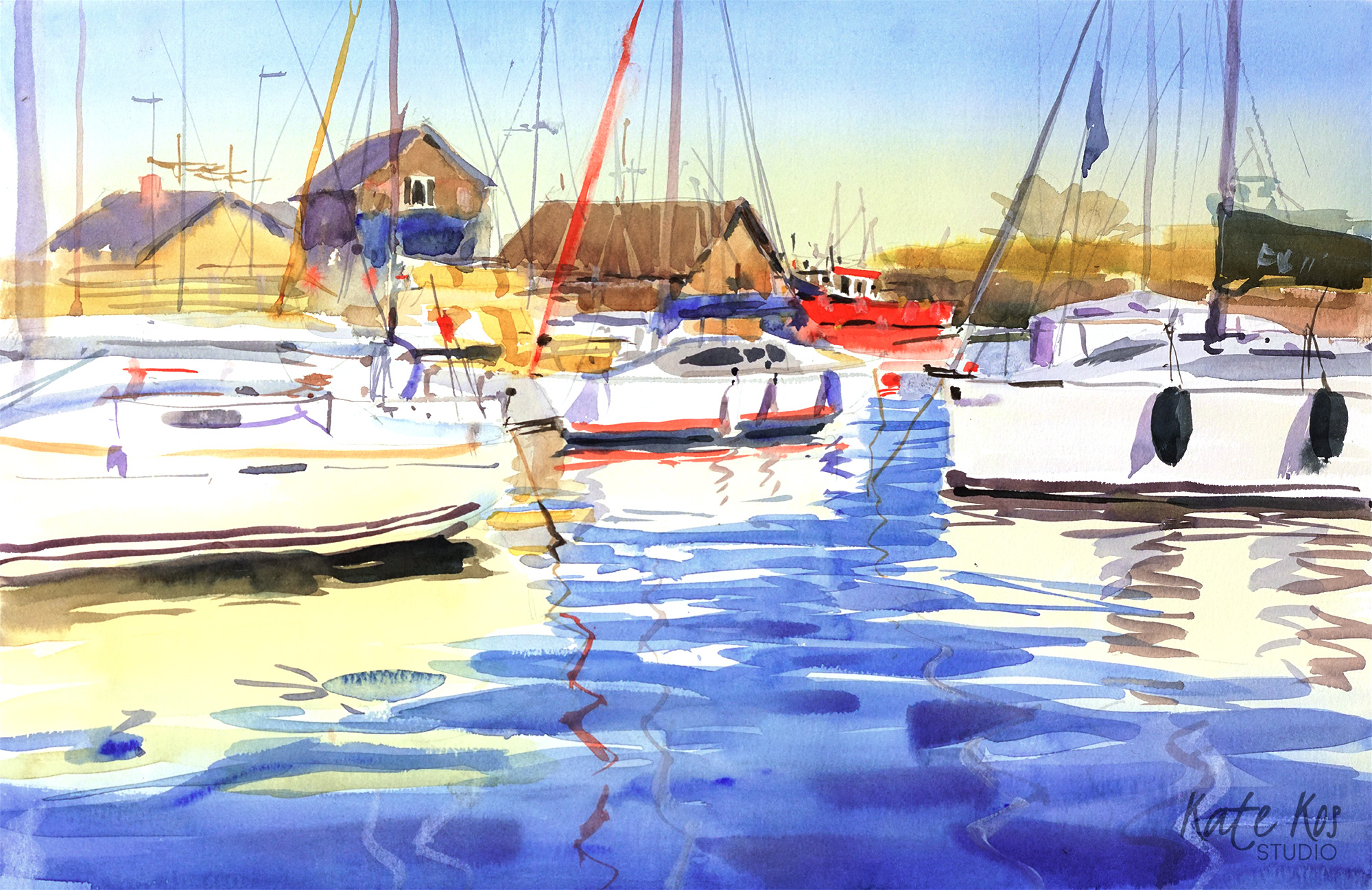 8 week watercolour course 
For those who know basic watercolour techniques or have finished beginner's course with me.
We will discover new tips and tricks, learn advanced techniques, like pen and wash, working on soaked paper, masking techniques, color balance etc. Contact me if you are interested in joining this group.
      Kate Kos Studio
      Thursday evenings 7pm - 9pm
      Janurary 22nd - March 11th
      Bring your own materials
      €250
      Call 0879877312
– not a serious art class
Join me for a acrylic painting class in the relaxing atmosphere where I will guide you step-by-step through creating a sunflower painting.
Perfect for those who cannot commit to the whole course. Come by yourself or with a friend for a fun, stress-free evening to paint your masterpiece over a glass of wine.
Get ready to unwind!
      Kate Kos Studio
      Friday evening 7pm - 9pm
      January 17th
      Bring your own materials
      €25
      book here or call 0879877312
Have been attending classes with Kate for 4 years. She is such a gifted artist and I have learned so much from her. She starts at the basics and gradually introduces more challenging subjects. You will surprise yourself at what you can achieve. She ensures that the classes are a really enjoyable experience as well. She is kind, encouraging and very supportive.
Raw Recruit !
A raw recruit who didn't know yellow and blue made green 😊 I am now a Watercolour enthusiast having enjoyed Kate Kos's Watercolour Classes over the last 4 years.
The sheer joy of this medium is addictive. It has the reputation of being a difficult medium but like any new skill, it just takes a bit of practise that is fun and very exciting !
Looking forward to 2018 classes 🎨❤️
Ethy ☘️
I thoroughly enjoy Kate's watercolour classes – her passion for watercolour has been contagious and her relaxed, friendly and encouraging personality made it so easy for a beginner like myself to settle in so easily. We have all became a great bunch of pals over the years and I wouldn't miss Kate's classes for the world. Thank you Kate I have learned so much!