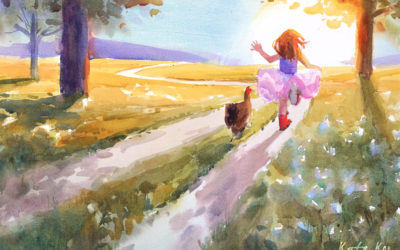 Like most everyone now i have more time on my hands, a positive aspect of this is I can take more photos and videos along the way to show you my process. It usually starts as an emotional response to a picture, looking at reference photos, to developing an idea and ending by following through to painting.. Read More
read more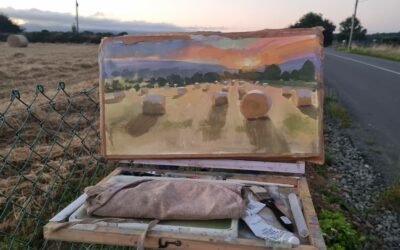 wet Summer Throughout the summer, my primary goal was to paint outdoors as often as I could. Unfortunately, the weather didn't always cooperate, and even on the occasional clear day, I struggled to get organized and head out to paint. Nevertheless, despite these...
read more
Graiguenamanagh Graiguenamanagh had a plein air event in August, and we had good weather with clear skies. The sun made the village look so lovely, and I even won a bronze prize. I made two paintings and met many fellow plein air artists. I look forward to coming back...
read more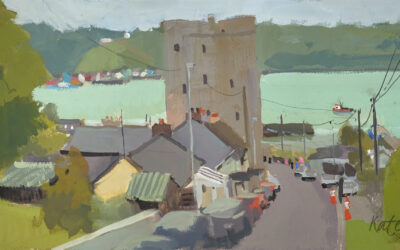 I was able to attend all the days at Art In The Open festival in Wexford. The persistent inclement weather pushed many of us outdoor painters to seek shelter from the rain, leading to inspiring conversations with fellow artists. This year, I was honored to serve on...
read more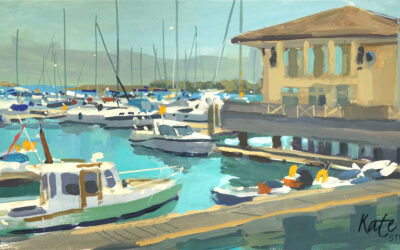 In June, I participated in the Dublin Plein Air Festival. Despite facing some of the most challenging weather conditions, I also had the opportunity to give a watercolour workshop in Donabate. The wind and the gloom couldn't deter us; in fact, finishing not one, but...
read more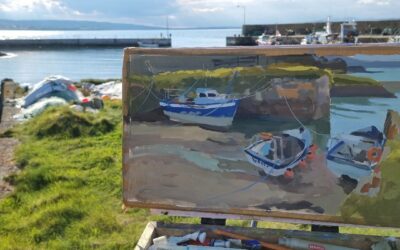 Now, if you've been following my journey, you know that I absolutely love exploring county Waterford. The thing is, I tend to get travel sickness, which means I have to plan my trips carefully to allow for enough time to recover. Waterford happens to be at the perfect...
read more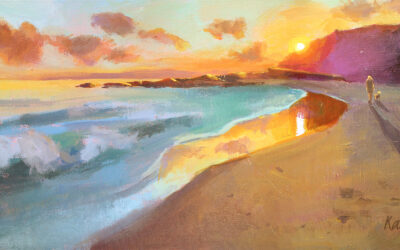 Despite the less-than-ideal weather forecast, I had planned to spend the week painting outdoors, trying to find moments of clear weather to do so. Yesterday was a sunny and perfect day, so I decided to head to Cahore to set up for plein air painting. However, the wind...
read more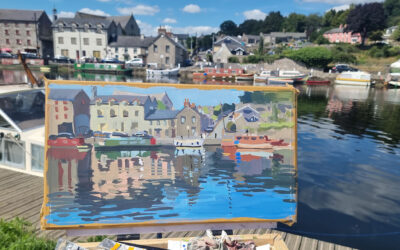 Outdoor Painting I kept up my plein air painting practice throughout the year, but for the outdoor painter there's nothing more satisfactionary then a beautiful summer. I want to share some of my new plein air paintings.
read more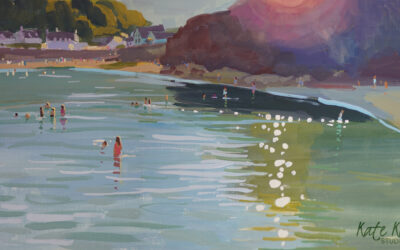 Painting Dunmore A few weeks back I headed to Dunmore East for a bit of a painting. Two of the paintings I did while there I entered in the Dunmore East plein air competition. The exhibition for same was this week and myself and Sophie headed down for the opening and...
read more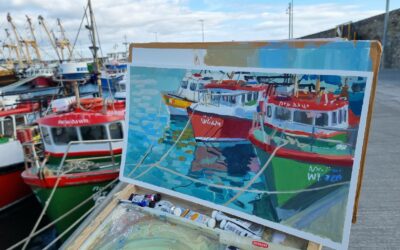 Art in the open 2022 Another great outdoor painting festival is already behind us and here are my hightlights in photos!Paintings Below are paintings I created during the festival. Click on the image for the full photo.
read more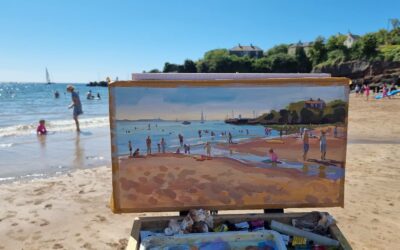 Waterford Trip and Painter's FOMO Ok so It's the summer, with a promise of some fine weather so thought to myself why not book a trip to Waterford same as last year? So booked myself into a hotel in Waterford, felt like it would be a good base and the views weren't...
read more