How long it takes to finish a painting and a privilege of buying art
privilege of buying art
I have never bought an original piece of art. Shocked?
It's not because I don't want to, of course I do! I am a painter, I love art , I look at art either online or in galleries every single day, and not because I have to, but because I want to. I live and breathe art. I love checking out other artist's work.

Why am I not buying art?

Well the one and only reason is that I can't afford it. There are other priorities in my life, and buying art is a luxury that has to wait it's turn. I hope I will get there, and I also hope that I will get there soon, so I can enjoy life not only as an artist but as a collector too and help and support fellow artists along the way.
Why am I writing about this?

An incident that happened the other day got me to thinking about it. So what happened? Well a couple days ago a lady dropped into my studio in Gorey. She had spent some time looking around and when I joined her to see if she needed anything and she told me how much she loved my work but felt guilty for not buying anything, but as she really couldn't afford to buy art at that moment.
And then this got me to thinking about how great it is when you can buy art. It is truly a privilege from a financial point of view, but also from another point. When you buy a piece of art you take a piece of the artist home with you too. There is no way one can paint without pouring their soul onto the paper or canvas. An original work gives you the privilege of looking into artist's soul. Owning art is like having a piece of creator's life hanging on the wall.
How long it takes to create a painting
I get asked so many times how long it takes me to create a painting. But there is no good or easy or acceptable answer to some people on it. There is no answer that will add up all the time it takes to come up with an idea, that will add up to all the time it took to get better and learn and hone the skill, all the failures that never saw the light of day, all the energy that it takes out of me.
Picasso
It reminds me of a story about the woman who approached Picasso in a restaurant, asked him to scribble something on a napkin, and said she would be happy to pay whatever he felt it was worth. Picasso complied and then said, "That will be $10,000." "But you did that in thirty seconds," the astonished woman replied.
"No," Picasso said. "It has taken me forty years to do that."
The List
A Couple of months back I started to create a list of my favourite artists. There is no point adding paintings as I'm sure over the course of time they will be sold or surely by the time I will be able to afford it.
But I have a list, and it's changing, growing mostly.
One thing I will not do when buying my first original artwork is to ask how long it took to paint.
Next time you are buying a painting hang it proudly in your home and make sure the nail is strong enough as it'll have to support not only the painting but the artists sweat , hopes and struggles.
Kate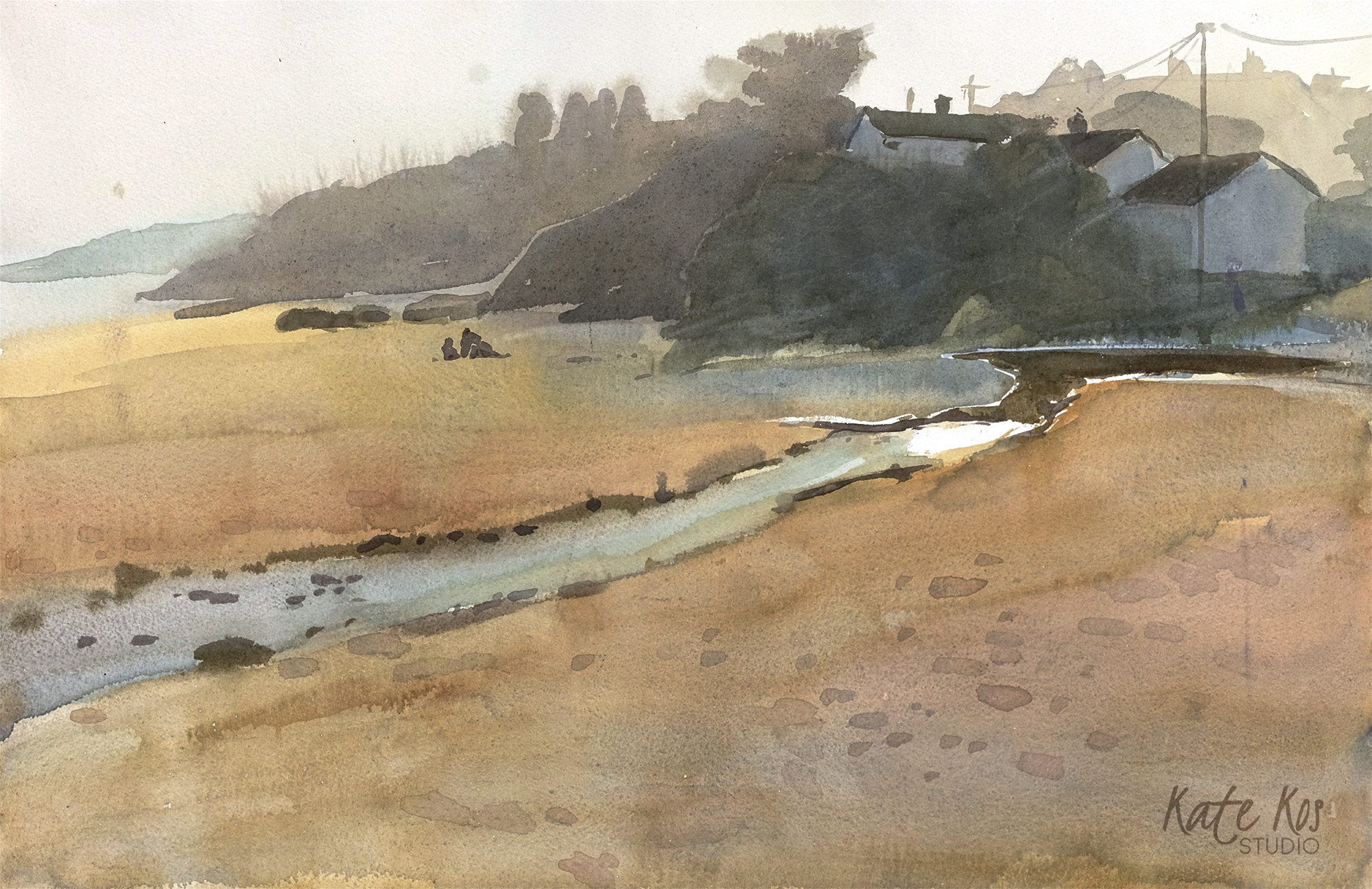 'Hazy Day'
plein air painting from Ballymoney
watercolor 53x34cm
available