2019
I am a bit late in saying goodbye to the old year and welcoming the new!
2019 was a year of ups and downs, but I think more ups than downs.
Looking back now at the amount of work I created I can see how busy I really was and I think it's all thanks to my new studio. Working in a new space added focus to my days, allowed me to connect with my collectors and improved my work-life balance. Last year I painted over 170 watercolours and acrylics, 2 large murals, one oil painting, and a great amount of studies and sketches that no one gets to see but me!
I started the year with a new gallery representation: The Whitethorn Gallery in Clifden, which has a selection of my floral and seascape watercolours.
I worked on 3 collections – Dash & Splash, Mother and Daughter and Corners. The last one been a selection of Gorey town paintings which then I officially exhibited in my studio. In March I completed the Clonattin View mural and then the Seascape mural in November. They were both commissioned by Gorey Tidy Towns and are now, together with James Kirwan's mural, adding a bit of colour to passers by at Gorey Civic Centre.

I gave a few workshops this year to private art groups and in my studio and 3 at plein air painting festivals. One in Swords as part of Dublin Plein Air Painting Festival and 2 in Dunmore East and Tintern Abbey as a part of Art In The Open. At the AITO festival exhibition I won the bronze award for one of my watercolours painted in Graiguenamanagh.

I also won first prize at the Landscapes of Gorey exhibition in Trillium House and again first prize at Kathleen Browne's Festival for a portrait I did of the honourable Mayor of Bridgetown, Bridie. Talking about portraits, I also took part in the Kildare Portrait Artist of The Year and painted a portrait of actress Eilish O'Carroll, which she then picked as her favourite.

I displayed my artwork at Bloom Festival and Art Source for a third year in a row and preparations for those shows are becoming a big part of my year! I have also continued to teach watercolour and acrylic with last year seeing the addition of the new Sip & Paint classes. Over 30 new students got a little more familiar with watercolour and some of them continued to advanced class.

This year I also became a committee member of Gorey Art Collective and was actively helping out the group, we have organised many artists workshops and 2 exhibitions. I designed the logo for the group and designed / launched our website.

In March together with Sara from Different Strokes we initiated Gorey Urban Sketchers and we now meet monthly to sketch with other artists our town and surroundings.
I also helped to organise From Landscape to Abstract – an exhibition of works by Polish artists living in Ireland.
2020
What a busy year!
For 2020 I have decided to take more breaks and holidays but smaller and take care of myself a little bit better! I'm not setting big goals, but focusing on smaller steps that will push me into right direction – adding more beauty to the world and making a living as an artist!
Kate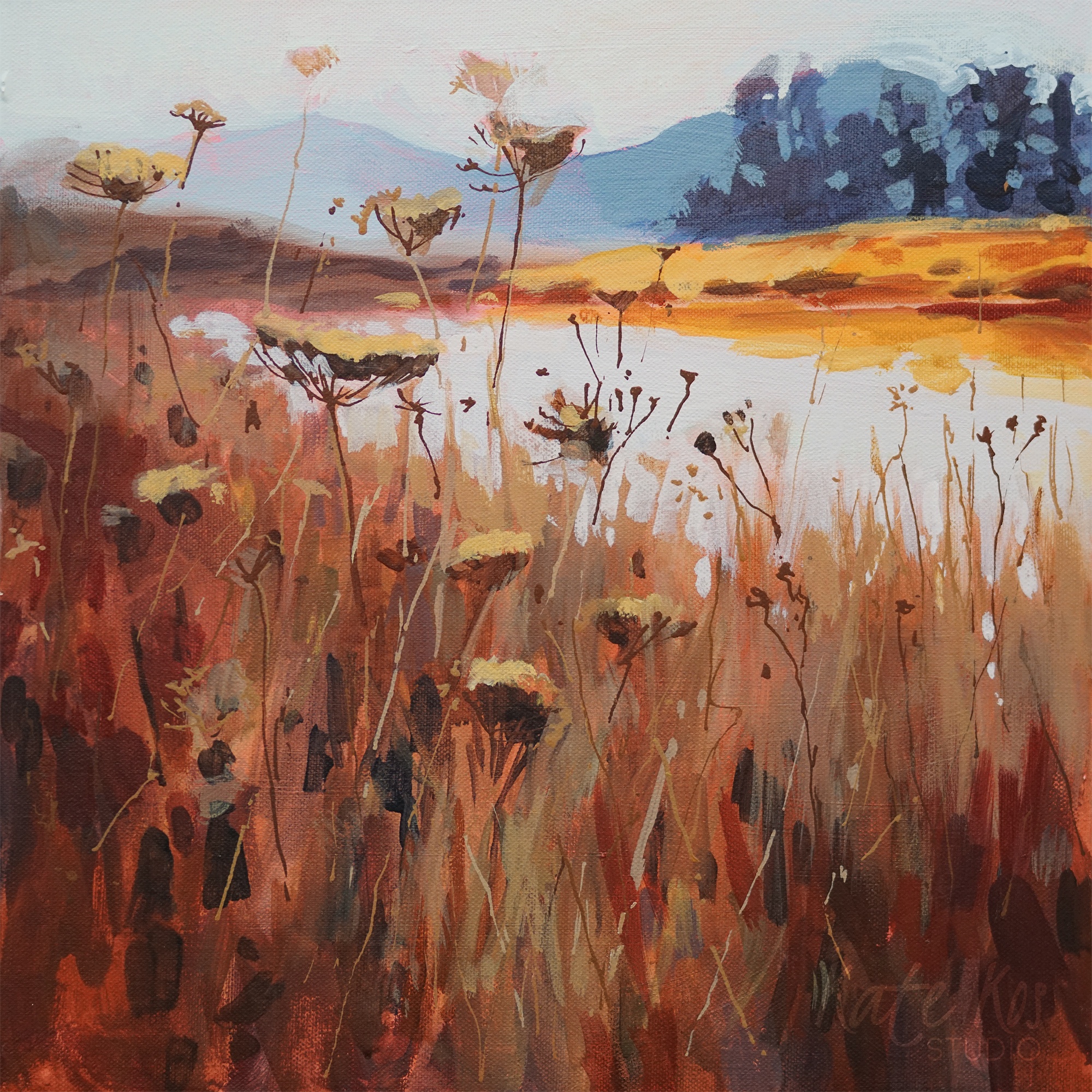 'Lakeside'
acrylic 40x40cm
available